Hello and welcome to the Wildlife Diaries!
I am Margarita, and I am crazy about wildlife and wild places. My background is in wildlife conservation, and my passion is observing and photographing wildlife in natural habitats around the globe.
The Wildlife Diaries is a collection of travel stories, field diaries and image galleries from my journeys. Here you will find suggested itineraries for wildlife-watching adventures, the best places to find different species of wildlife and reports from the field.
A few years ago, I set myself on an ambitious quest to see all species of wild cats in their natural habitat. That's 40 instances of sheer luck of being in the right place at the right time. In the last few years, I managed to see 21 species, so I have a long and exciting journey ahead of me.
Follow me on my quest to see the world's most epic wildlife, and if you have any questions about any of the destinations, don't think twice, leave a comment!
Memberships
I am a Digital Publisher member of the Australia Society of Travel Writers (ASTW).
Awards
I am thrilled to be awarded second place in the Top 10 Wildlife Travel Blogs to Follow in 2019 by Feedspot.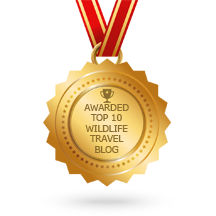 Partnerships
As a photographer and a visual storyteller, I have the utmost appreciation for visually-arresting content. Most of the images on this site are taken by me. But when I don't have high-quality images, I supplement my posts with stock images from Depositphotos.